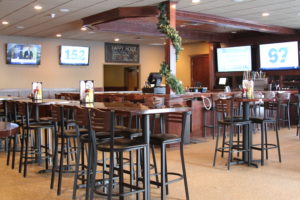 Since 1964, the name Chanticlear Pizza is synonymous in the Twin Cities Area for quality pizza. The company began with one location in Fridley but the family owned chain has since developed into 14 locations with their market being the northern metro.
Upon a decision to expand their busy Coon Rapids location, a new concept was born and developed. The result, Chanticlear Pizza and Grill, opened in mid-December complete with an expanded menu that includes the locally famous pizza as well as burgers, pasta, sandwiches and a full-service bar. The environment accommodates families out for dinner and sports fans cheering for their favorite team.
Gaughan Construction transformed a former gas station at the North Lake Shoppes property in Coon Rapids into a fully operational kitchen, restaurant and bar. The scope of work included demolition of two inline spaces, framing, insulation, sheetrock, concrete, carpentry, installation of an acoustical ceiling and painting among other jobs. The Chanticlear Pizza and Grill also benefits from the former gas station's canopy which has been converted into one of the best patio seating areas in the suburbs.
Head out to Chanticlear Pizza and Grill to experience quality food with a great dining experience. The restaurant is located at 11706 Crooked Lake Boulevard NW in Coon Rapids, MN. For additional information and specials, follow them on their Facebook page HERE