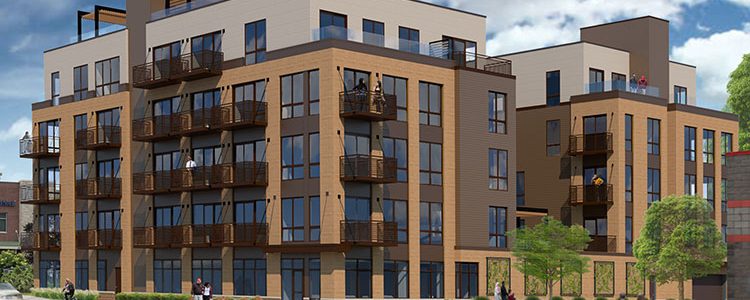 Liffey on Snelling
Major developments are in the forecast for St. Paul's Snelling Avenue. Excitement has sprung across the Midway neighborhood and not only because of the new Allianz Field. Gaughan's very own Liffey on Snelling has been generating quite a bit of buzz. Finance & Commerce recently published an article featuring Gaughan's Senior Vice President Dan Hebert, articulating the communities interest in redevelopment. You can read the article here.
Likewise, the Pioneer Press also released an article mentioning the development of Liffey on Snelling. Check that article out here.
The Shakopee City Council approved the 126-unit multi-family development for downtown Shakopee, proposed by Gaughan, at their July 3 meeting. Minnesota-based commercial real estate developer, Gaughan has an affinity for sites with the potential of the Shakopee project. Senior VP of Commercial Accounts Dan Hebert says, "[Gaughan's] primary focus is redeveloping sites and revitalization of downtown markets."
This piece of land on the north end of downtown faces the Minnesota River. The team at Gaughan has planned for an apartment community with five stories, underground parking, and a restaurant on the first floor.
Gaughan's most recent multi-family development, Lighthouse Lofts Luxury Apartments located in the downtown community overlooking the lake, will open next month in Forest Lake, Minn.
Read the entire article from Finance & Commerce here.
Gaughan Companies had a great relationship with Bayer Medical and Boston Scientific. We are grateful that commercial real estate development is on the rise, and we're excited to bring new product to the market.
Gaughan Sells Coon Rapids R&D Building for $3.8M
9055 Evergreen Blvd., Coon Rapids
Description: 50,528-square-foot Class B flex research and development building, built in 1987 on 4.5 acres at 9055 Evergreen Blvd., Coon Rapids
Buyer: Conforti Holdings LLC, Coon Rapids
Seller: 9055 Building LLP, an entity of Gaughan Cos., Forest Lake
Purchase price: $3.885 million, with a $1.81 million down payment and new financing
Price per square foot: $76.89
The transaction: Forest Lake-based Gaughan Cos. has sold a Coon Rapids investment property it has held for two decades for $3.89 million to a new owner-user.
Conforti Holdings LLC closed July 20 on the purchase of the 50,528-square-foot Class B flex research and development building at 9055 Evergreen Blvd. The seller was 9055 Building LLP, the same Gaughan entity that bought the building for $1.5 million in 1995. The current price works out to $76.89 per square foot. Dan Hebert of Gaughan represented the company in the sale. Hebert wasn't available this week, but company officials confirmed the sale. They noted the building was occupied over the years by Possis Medical, Bayer Medical and Boston Scientific. They declined to identify the buyer, but confirmed it is an owner-user.
Gaughan officials say they are liquidating some of the company's older assets to generate cash for new development projects.
In July, Gaughan closed on the $1.2 million purchase of two properties at 304-308 Snelling Ave. N. in St. Paul, where it plans to build Liffey on Snelling, a 60-unit luxury apartment building.
Eric Batiza, vice president in the Minneapolis office of Colliers International, represented the buyer of the Coon Rapids building. He identified the new owner only as a Twin Cities company in need of a larger space. He declined to comment further.
Last sale: Seller paid $1.5 million in 1995
Property ID: 36-31-24-24-0014
(From Finance and Commerce)