This Fall, Gaughan opened Lighthouse Lofts Luxury Apartments, a new multi-family property in downtown Forest Lake, Minnesota. This 5-story, multi-use building is the newest luxury apartment community in the neighborhood. As General Contractor and Developer, Gaughan's vision with Lighthouse Lofts and other developments is to bring new life and vibrancy to the core of the city. Investments like this are made to help fulfill a void in the market.
The first floor features a new location for Snap Fitness, to which Residents receive a complimentary membership with their lease. Mallards Restaurant has also opened their new, second location in the North corner retail space. Above that, Lighthouse Lofts has four floors of luxury apartment homes with several, additional walkout units on the first floor.
The modernity of this project is bringing a new atmosphere to downtown Forest Lake. The 8.5-foot ceilings and 6-foot windows in every unit allow natural light into nearly every room of the apartment, and the patios and balconies provide a beautiful lake view year-round. Residents can enjoy the rooftop patio, equipped with gas grills, in the summer. The adjacent clubroom provides a place to relax, gather in community, or reserve for private events in any season.
For more information about this development, visit www.lighthouseloftsmn.com, and stop in to experience these luxury apartments! The team at Gaughan can assist with your commercial real estate and construction interests. Contact us directly at 651-464-5700.
March has brought with it beautiful sights at one of our construction projects. On March 1, crews at Lighthouse Lofts began working on assembling the "lantern room." Once complete, the tower will exude light to be seen from great distances. This will be the clubroom for Residents.
For more information on Lighthouse Lofts, visit www.LighthouseLoftsMN.com.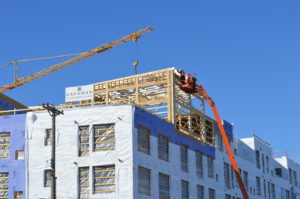 "You can't build a great building on a weak foundation. You must have a solid foundation if you're going to have a strong superstructure." – Gordon B. Hinckley
The next step in the construction at Lighthouse Lofts Luxury Apartments has begun! Materials arrived on site at the end of August to begin placement of precast columns, beams and planks. Once precast is complete, metal framing will begin at street level and wood panel construction will be installed on levels two through five.
Thank you to Molin Concrete Products for their hard work on the precast products.
Check out the construction progress everyday at http://www.lighthouseloftsmn.com.