Gaughan Multi-Family has a new apartment complex opening in Spring 2022, Liffey on Snelling. 
Located conveniently in St. Paul at HWY 94 and Snelling Ave, Liffey will provide beautiful studios, 1 bedroom, and 2 bedroom apartments. Residents will be able to enjoy an array of amenities including cozy fire pits on a courtyard terrace, gas grills, private workstations, pet wash stations, a state-of-the-art 24/7 fitness center, heated underground parking, bicycle stations, and more.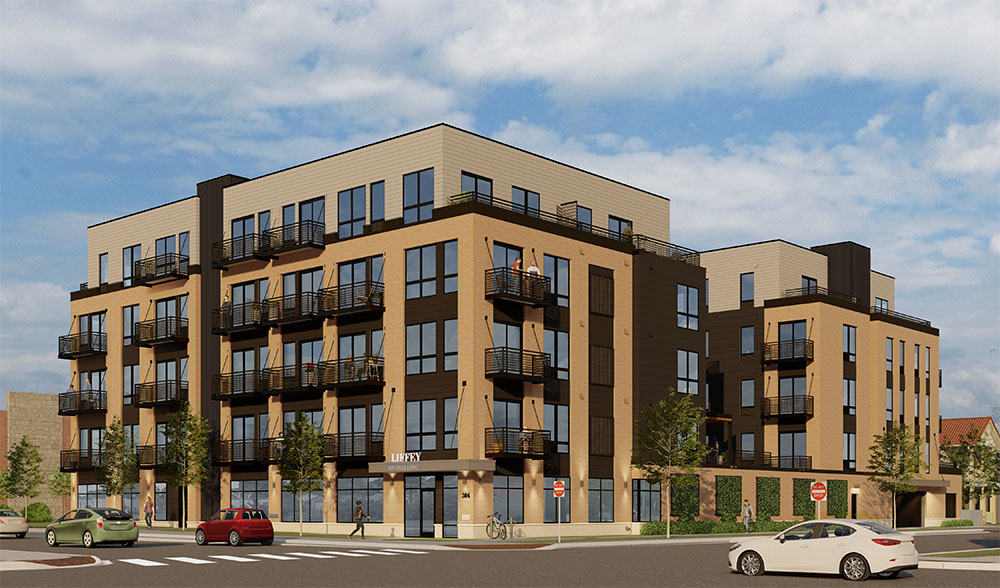 Liffey, will be the perfect living space to enjoy sporting events, the Minnesota State Fair, concerts and more St. Paul events. Liffey is a short walking distance to the light rail and bus stops, so that residents can easily access cafes, restaurants, entertainment, and a number of parks including trails without needing a car.
"We are thrilled to offer a project that will provide a smart and balanced lifestyle for our future residents. Live Liffey!" – Dan Hebert, Senior Vice President
Gaughan has a reputation for successfully completing and managing multi-family residential communities throughout the Midwest. Each property is carefully maintained by on-site management and caretakers, with emergency maintenance service and exceptional customer service.
Prospective residents can pre-lease their apartment at Liffey on Snelling as soon as Fall 2021. 
Learn more on www.liffeyonsnelling.com.  
Contributing panelist Dan Hebert, Senior VP at Gaughan Companies, participated in the East Suburban Development Summit, hosted by the Minnesota Real Estate Journal at the University of St. Thomas. Dan and the other panelists, Dwight Picha, Brian Zeller, Aaron Parrish, and Moderator Chris Eng, discussed development opportunities and activity in the eastern suburbs for the Washington County Development Update session.
Gaughan Companies has developed and built over fifty projects in the eastern suburbs over the last 48 years, including apartments, townhomes, condominiums, retail and office. Dan shared a variety of developments in the planning stage at Gaughan Companies and around the eastern suburbs.
In 2018, Gaughan Companies will be developing a property that was recently purchased in St. Paul. At the intersection of I-94 and Snelling Avenue, this property is part of a rezoning and redevelopment of the area. We are excited to be able to redevelop this site and add additional value to the community.
It was encouraging to see so many people come out to the conference who are interested in real estate development in the Twin Cities. Gaughan Companies will continue to provide expert services to clients and communities, and we hope these other businesses will join us in this endeavor.
St. Paul, MN – July 21, 2017 – Gaughan Companies, Commercial Real Estate Developer and General Contractor, closed on the purchase of 304-308 Snelling Avenue in St. Paul on July 12, 2017. The final decision for the purpose of the new development is still being considered. Gaughan Companies is eager to develop in the city of St. Paul again.
Just off of I-94, the property is within walking distance of the Minnesota United FC Stadium and the Snelling Avenue Metro Transit Green Line. In addition to a new Whole Foods, this ideal neighborhood is also conveniently located near several major universities, including Concordia University, Hamline University, Macalester College, University of St. Thomas and St. Catherine University. Over 42,000 vehicles pass by this corner every day.
The current building was constructed in 1913, and the property has been owned by the same person for nearly 40 years. Gaughan Companies is looking forward to the opportunity to redevelop this site and build a new facility for the community.
For more information, visit www.gaughancompanies.com.