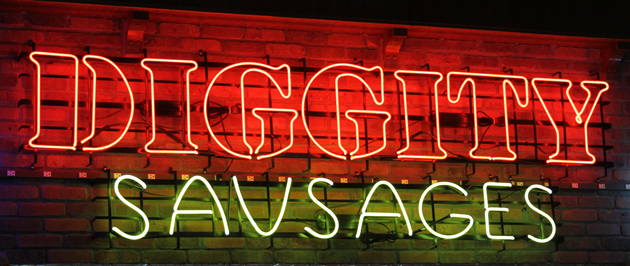 When you think burgers, fries and shakes, you probably don't think high tech service. One of Gaughan's newest tenants is looking to change all that with Diggity's Drive Up.
On paper, Diggity's is your classic burger shack served with a heaping helping of Americana. Unlike the drive ups of yesterday, you won't find any rollerskating candy stripers whisking away orders to hungry patrons. In fact, you won't find any servers at all.

In true American fashion, Diggity's is looking to streamline the fast casual dining experience by putting the customer in charge, armed only with an appetite and a smart phone.
The restaurant is doing away with traditional wait staff in favor of touchscreen kiosks and mobile apps that allow customers to order ahead from anywhere and be notified immediately when their food is ready. The Diggity's concept is the brainchild of Hemisphere Restaurant Partners who own several full service operations in the Twin Cities, including three Tavern Bar and Grill location in Edina, Woodbury and Blaine.
In a recent Business Journal interview Hemisphere managing partners insist the model is not as big a departure as people think. In other fast casual establishments like Chipotle, Panera, or Potbelly there is no expectation of being waited on. Diggity's has simply given the role of cashier to the kiosk to allow for more kitchen staff to maintain a high quality menu with the lowest wait times possible.
If the concept proves successful, we may see more server-less establishments in the years to come. Diggity's is already planning on opening three new locations a year for the foreseeable future.
Gaughan Companies owns the building for the inaugural location and the Gaughan Construction division was general contractor for the demolition and rebuild.
You can check out all the great work for Diggity's now up and running at 133 Coon Rapids Blvd NW